step inside the IGI library and center by atakarchitekti 
Czech practice atakarchitekti transformed a former rectory building into a new community center that houses a library, a multifunctional hall, a club space, and a maternity center. Located in in the Vratislavice nad Nisou district, the substantial program required an extension of the existing building, resulting in a dark monolith that steadily complements the historic structure and château garden that surrounds it. A new piazzetta also took shape, inspired by the rhythm of small squares in the vicinity of the public buildings.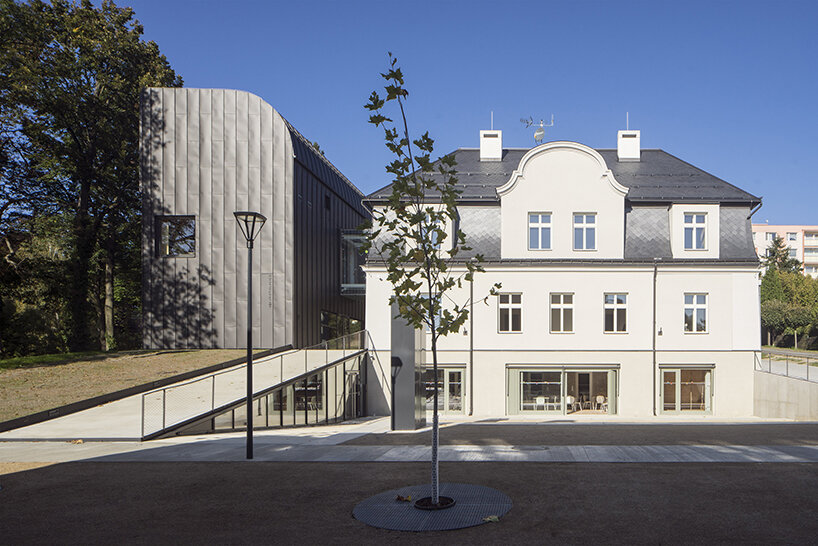 all images © Tomáš Souček
atakarchitekti  (see more here) retained the original character of the old clergy house. Its deep foundations have allowed for a semi-recessed floor to be created by weighing off the ground; this allowed daylight to pour in through generous portals while the excavated pit formed the base of the new plaza. The ground floor has been given over to clubs and the upper floor to the children's library.
On the west side, the rectory is complemented by a modern, dark-toned extension hosting the main IGI library; both buildings connect in the basement and via a bridge on the first floor. The size, shape and location of the new structure are based on the context of the château garden and the rectory, as well as the tree protection zones and infrastructure network lines. The result is a contemporary-style monolith with a narrow and compact three-story upper part and a two-story basement.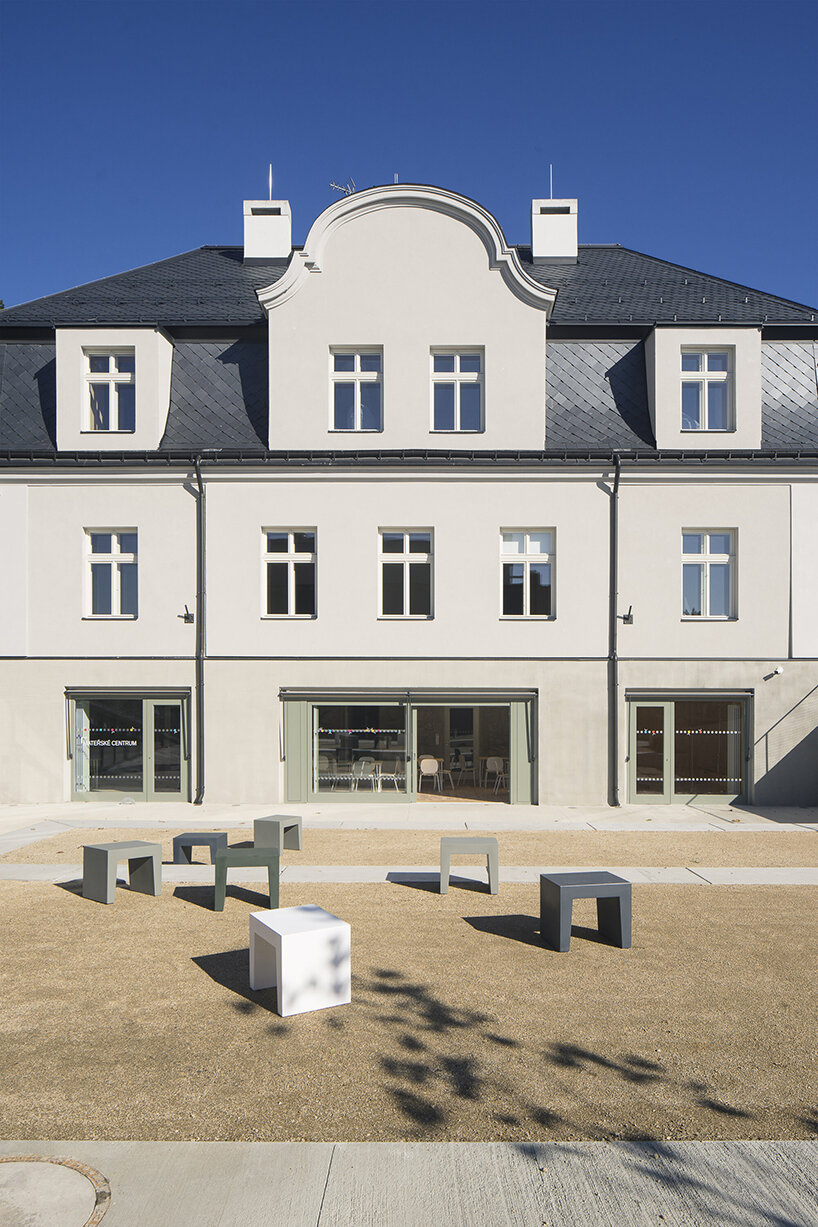 atakarchitekti added a new piazzetta at the entrance
The library integrates into the upper levels, while the ground floor hosts a reception area with a terrace and the first floor welcomes visitors into a gallery and a reading room under an arched roof. The underground floors house a multifunctional hall with a small lobby and a cloakroom in a vestibule linking the two buildings, creating a common entrance area. Through the large glass walls on the ground and upper levels, the library frames generous views of the château garden. In the reading room, the contact with trees through the panoramic window is so close that readers feel like they are sitting inside the tree crowns.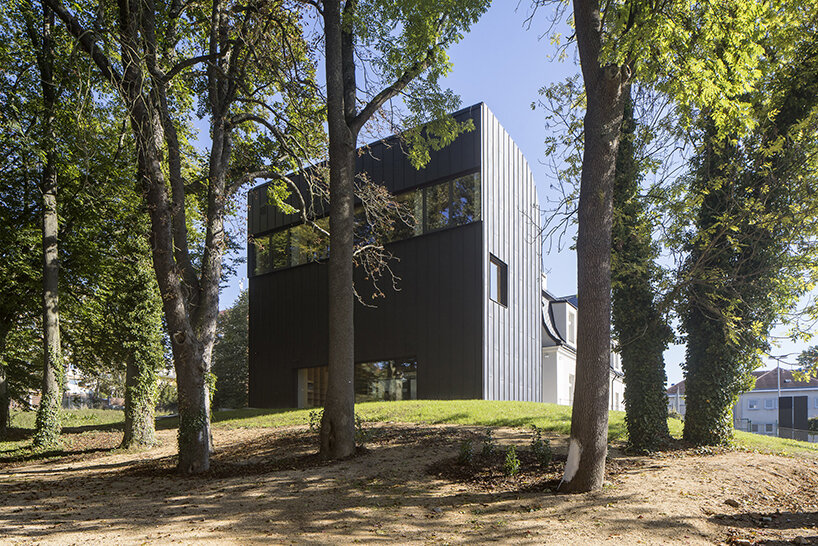 the extension appears as a dark and contemporary style monolith
Material-wise, the entire structure of the extension, including its foundations, is made of monolithic reinforced concrete. The exterior is completely contact insulated and wrapped with black folded sheet metal. The windows and glazed walls are set in minimalist aluminum frames while the connecting bridge between both buildings is designed as a prefabricated steel structure, sheathed with an isolating double glazing. The external retaining walls defining the new piazzetta are made of monolithic reinforced concrete.
As for the interiors, the exposed concrete and brick and stone masonry are softly lined with wooden sedilia and bookshelves. These create all sorts of hiding places and nooks where the visitor can constantly discover something new.