MAD Architects completes Xinhee Design Center 
Xinhee Design Center, created by MAD Architects, sees its completion after almost seven years of construction. Located in Xiamen, a port city on china's southeast coast, and designed for the international fashion group Xinhee and its six subsidiary brands, the scheme unfolds around a central atrium, with six curvaceous petals emerging from a central core. Occupying an area of around 61,000 sqm (656,600 sq ft), the architecture introduces a flexible and innovative workplace that blurs the boundaries between built and landscape, as well as brings the people closer together. This is achieved with its star-shaped layout and a generous amount of semi-transparent polymer that organically spins around the six branches.
'The building is envisioned as a living system with a skin-and-bone structure, that explores a reciprocal relation between interior and exterior,' shared the architects.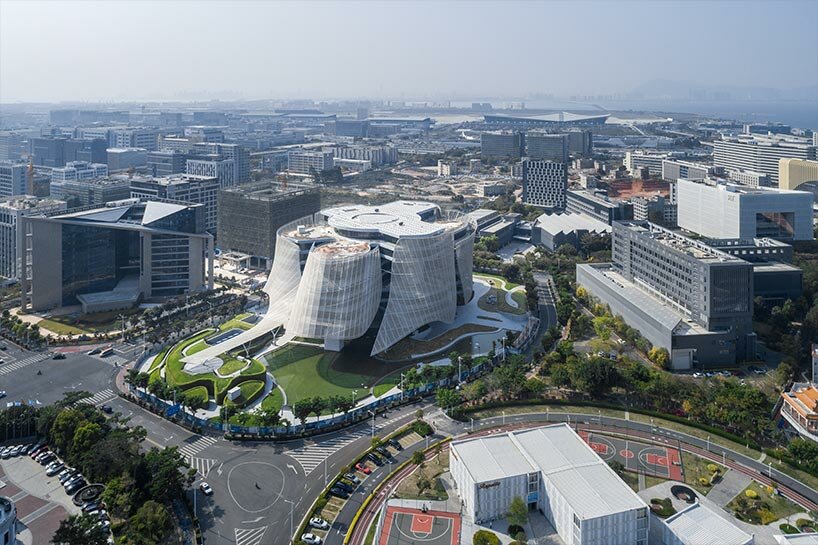 all images by CreatAR, unless stated otherwise
mimicking a series of petals, growing from a central point
The coastal city of Xiamen is characterized by a subtropical climate, which influenced the overall design of the project. To protect the interior from the strong sun and provide ventilation to the building during the hot season, the structure is dressed with a translucent envelope that lays on a metal skeleton made of a series of slender diagonal supports. In addition to sun protection, which reduces light transmission by 60%, this lightweight skin adds to the facade a 'convivial and breathable design', appearing as a floating veil.
At the heart of the structure, the atrium infuses the workplace with a verdant lush garden and water features, creating a seamless transition with the surrounding scenery. The design team opted for openness and permeability, creating visual communication through the different floors and departments, and fostering a meeting point open to staff and visitors.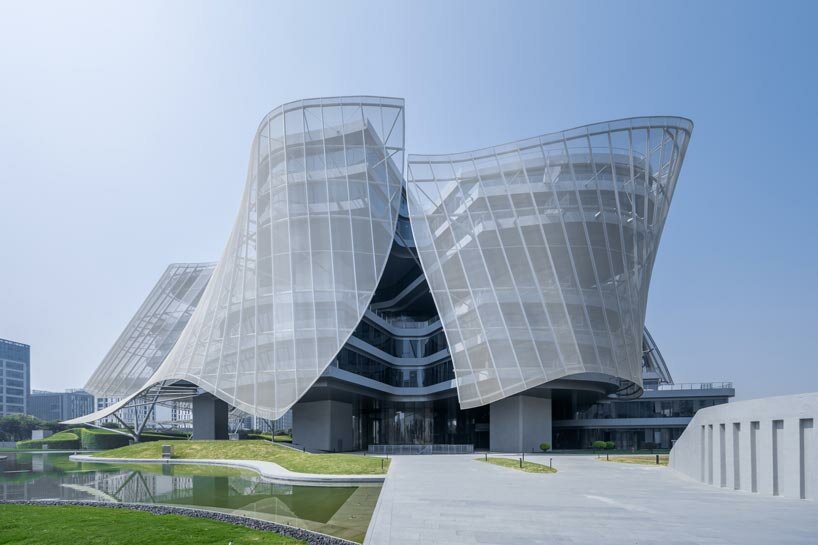 a translucent coating is applied to the building's façade permitting 40% of the light transmission
A cloud-shaped automatic window on top of the atrium allows air circulation to run through the building. Meanwhile, a footbridge hovers above and connects the different programs, while also doubling as a catwalk for occasional fashion shows. Living walls and green pops intertwined with work areas bring a constant connection between internal and external spaces.

the facade appears as a floating veil that dances in the breeze | image by Felix Amiss